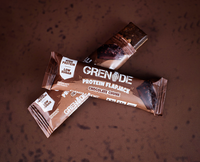 Protein Flapjack
If it's an energy boost you need, then the Reload® oat energy bar is the snack for you! Made with all-natural nut butters and wholegrain oats, Reload® provides slow-release energy to see you through your busy day. This tasty, high protein energy bar is also high in fibre and low in sugar, making it a great option for healthier snackers. Presented in two 35g servings, Reload® can be eaten at any time, whether you're reloading the squat rack to tackle your next set or battling your way through the morning commute. With three delicious flavours to choose from, it'll be a challenge choosing your favourite!
Start the day strong with Grenade Protein Flapjack, a healthier, more convenient way to kickstart your morning and Get It Done.
The Important Stuff.
Reload® is a high protein, low sugar energy oat bar, made with wholegrain oats to provide slow release energy during your jam-packed day. Featuring all-natural nut butters, this deliciously soft oat bar is full of flavour and packed with protein, with up to 17g per bar. It's also high in fibre and supports Grenade®'s low sugar credentials, offering less than 3.4g of sugar per bar.

Suitable for vegetarians, this versatile energy bar is the perfect snack for any occasion, whether you're tackling a tough set in the gym or braving the daily commute. Presented in two 35g portions, Reload® is ideal for on-the-go snacking – have half ahead of your morning run and the other half as a midday pick-me-up!

Reload® is available in three tasty flavours: Billionaires Shortbread, Chocolate Chunk and Blueberry Muffin – good luck choosing your favourite!

A great energy boost for any occasion, Reload® oat bars can be consumed at any time. Whether you're in need of a tasty on-the-go breakfast option or a pre-cardio lift, Reload® is sure to satisfy your taste buds while also supplying your body with the fuel it needs to smash your goals!

Protein Blend (Soy Protein Isolate, Hydrolysed Wheat Protein, Whey Protein Isolate (Milk), Milk Protein Isolate, Emulsifier: Sunflower Lecithin), Rolled Oats (15%), Nut Butter Blend (Cashew Butter, Peanut Butter), Humectant: Glycerol; Soluble Tapioca Fibre, Water, Milk Chocolate With Sweetener (6%) (Sweetener: Maltitol; Cocoa Butter, Whole Milk Powder, Cocoa Mass, Emulsifier: Soy Lecithin; Natural Vanilla Flavouring), Fat-Reduced Cocoa Powder, Milk Chocolate Chips (4%) (Sugar, Whole Milk Powder, Cocoa Butter, Cocoa Mass, Whey Powder (Milk), Skimmed Milk Powder, Emulsifier: Soy Lecithin; Natural Vanilla Flavouring), Soy Cocoa Crisp (Soy Protein Isolate, Cocoa Powder, Tapioca Starch), Coconut Oil, Golden Flaxseed, Natural Flavouring, Sodium Chloride, Sweetener: Sucralose; Manganese Sulphate.

ALLERGY ADVICE: For allergens including cereals containing gluten, see ingredients in bold. Also may contain Other Nuts and Sulphur Dioxide and Sulphites.

GRENADE® Reload should be consumed as part of a balanced diet. Product contains more than 10g/100g polyols: excessive consumption may cause laxative effects.

When should I eat an energy oat bar?

You can consume Reload® energy oat bars at any time. They're the perfect snack when you need an energy kick, whether that's first thing in the morning or during high-endurance activity.

How are Reload® energy oat bars different to Carb Killa® bars?

Both Reload® and Carb Killa® bars offer Grenade®'s high protein, low sugar credentials and, of course, taste great! However, Reload® is the go-to if you're in need of an energy boost. Made with wholegrain oats, Reload® bars provide slow release energy, making them the perfect snack to fuel your busy day.

What are the benefits of oats?

Oats, specifically wholegrain oats, are packed with nutrients and are a great source of fibre. They're also filling, helping you to feel fuller for longer. Head over to our blog for the full lowdown on why oats are a great addition to your diet.