We are Grenade® People
Founded in 2010 by Alan and Juliet Barratt, Grenade®'s mission was simple: to create an iconic weight-loss product and become THE brand within Sports Nutrition. Grenade®'s first product was so effective, a friend described it as explosive, "like a grenade". This product became Thermo Detonator® and the brand name, Grenade®, was born. Today, Grenade® is available in over 80 countries, with a multi award-winning product range, including our best-selling Carb Killa® protein bars and cutting-edge sports nutrition, we have you covered.
Grenade® Explodes into life!

After years of development, Grenade® is born! The launch of their first product, the award-winning and iconic weight management product, Thermo Detonator®, puts Grenade® on the map

Bringing the Noise to Bodypower

Then iconic Grenade® Tank makes it's debut at the 2011 Bodypower Expo in Birmingham, UK

Grenade® Reinforcements arrive

Following the huge global success of Thermo Detonator®, the Grenade® product lineup expands, with a variety of innovative sports nutrition products such as .50 Calibre® Pre-Workout and Hydra 6® Protein Powder

Grenade® raises the Bar

2015 saw the protein bar game change forever, with the launch of the high protein, low sugar indulgent Carb Killa® Bar, now the UK's best selling!

Shakin' things up!

Following the huge success of the Carb Killa® Bar, the high protein, low sugar range expanded with the innovative and indulgent Carb Killa® Shake

The Snacking Revolution Begins...

The war against unhealthy snacks begins in true Grenade® Style - the first UK Tank Tour took Grenade®'s healthier snacking message to the streets

Energy Lives Here...

After years of innovative development, Grenade® launches it's functional energy drink, Grenade Energy® - powered by natural caffeine with added BCAAs,  electrolytes and nootropics, all with no sugar or calories!

Grenade Takes Flight

The Grenade® Tank makes a statement, the Grenade® Balloon takes it to the next level...literally! Keep your eyes on the skies...

Mondelēz International Welcomed Onboard!

Mondelēz International acquired a significant majority interest in Grenade. The acquisition will allow Grenade to accelerate growth, as it enters an exciting new chapter in the business' history! Watch this space...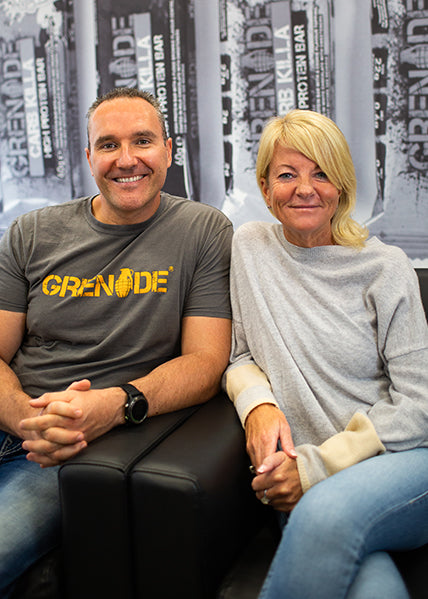 A bit from Our Founders…
Back in 2010, we set out to create something special, an iconic brand that could be trusted and recognised by people all over the world who weren't afraid to roll their sleeves up and get stuck in. We made a commitment to make serious product for serious people, whether they were high-performance athletes, weekend warriors or elite military, but to never take ourselves seriously in the process. We would embrace humour and humility, and if we didn't love it we wouldn't do it…ever.
Rolling forward to the present day, we still make the world's finest sports nutrition and functional food products, and we never compromise on brand. We do it our way or not at all, and every now and again we still like to blow some sh*t up!
We have a world class team that learn obsessively, disrupt convention and are passionate about perfection.
We don't do 'normal'.
We are Grenade®.